Our goal was to grow BEEx's email list and make it easier to navigate to specific resources and find similar resources.
Audience: Building contractors, architects, policy makers
The Building Exchange, like most brands and organizations, needed a way to better tell their story -- one that highlights their mission, values, and accomplishments. I worked with them to better craft their story of what they do and how they do it by diving into their materials, speaking with stakeholders, and diving into analytics. We worked together to understand their goals and mapped out a plan for how we could get there. Our strategy around this involved positioning BEEx as the leaders in the lighting and energy efficiency industry.
The Latest at BEEx
BEEx hosts events, forums, and lectures, partners with similar organizations, and puts out a ton of data and research. Their current site was doing a really good job of showcasing this movement because of its modular structure. So, when I began working on their homepage, I wanted to make sure we kept this same sense of activity and excitement around all of their events and resources. Their homepage was designed to highlight the latest in the organization while also allowing users to very easily understand who they are, what they do, and dive into learn more about them.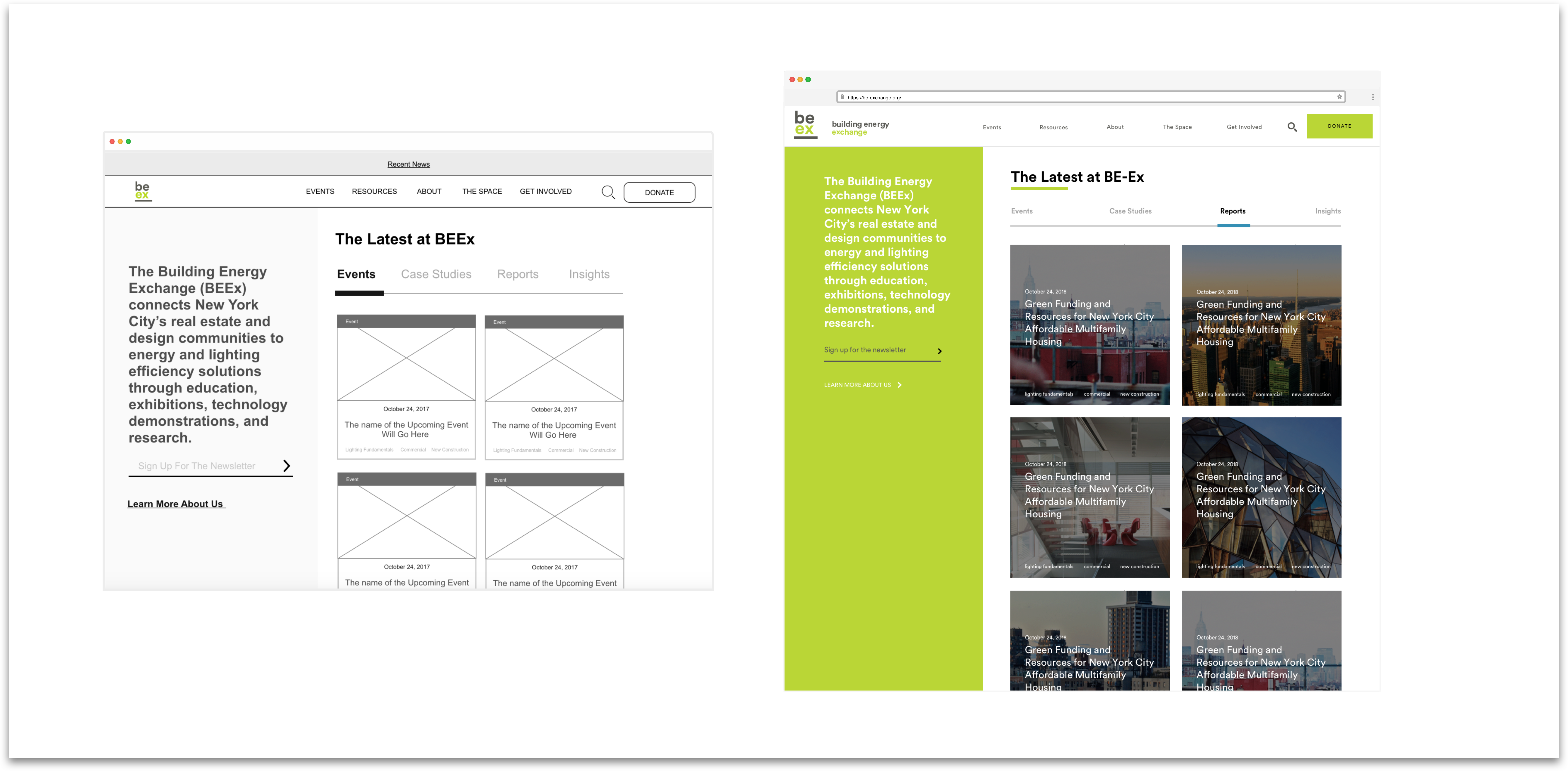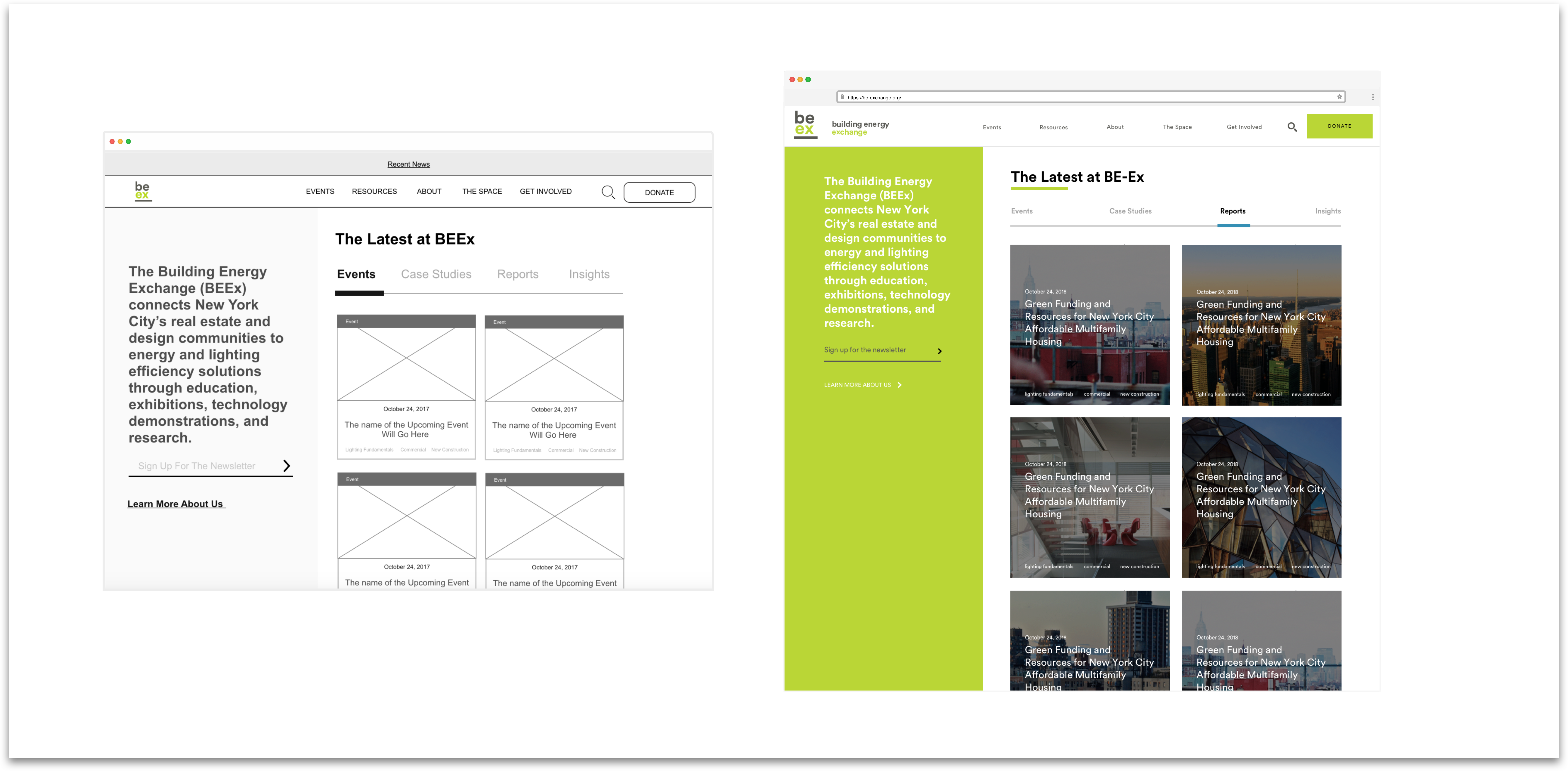 Homepage design from wirerame to visual design.
Growing The User Base
One of the main project objectives was to grow the email newsletter list to build visibility by better promoting events and sharing resources. Through a combination of analytics and best practices, we saw that users were accessing 3-4 resources at a time. With this insight we decided to create a gate around content after the user has accessed two resources where we ask for the user's email address in exchange for unlimited content.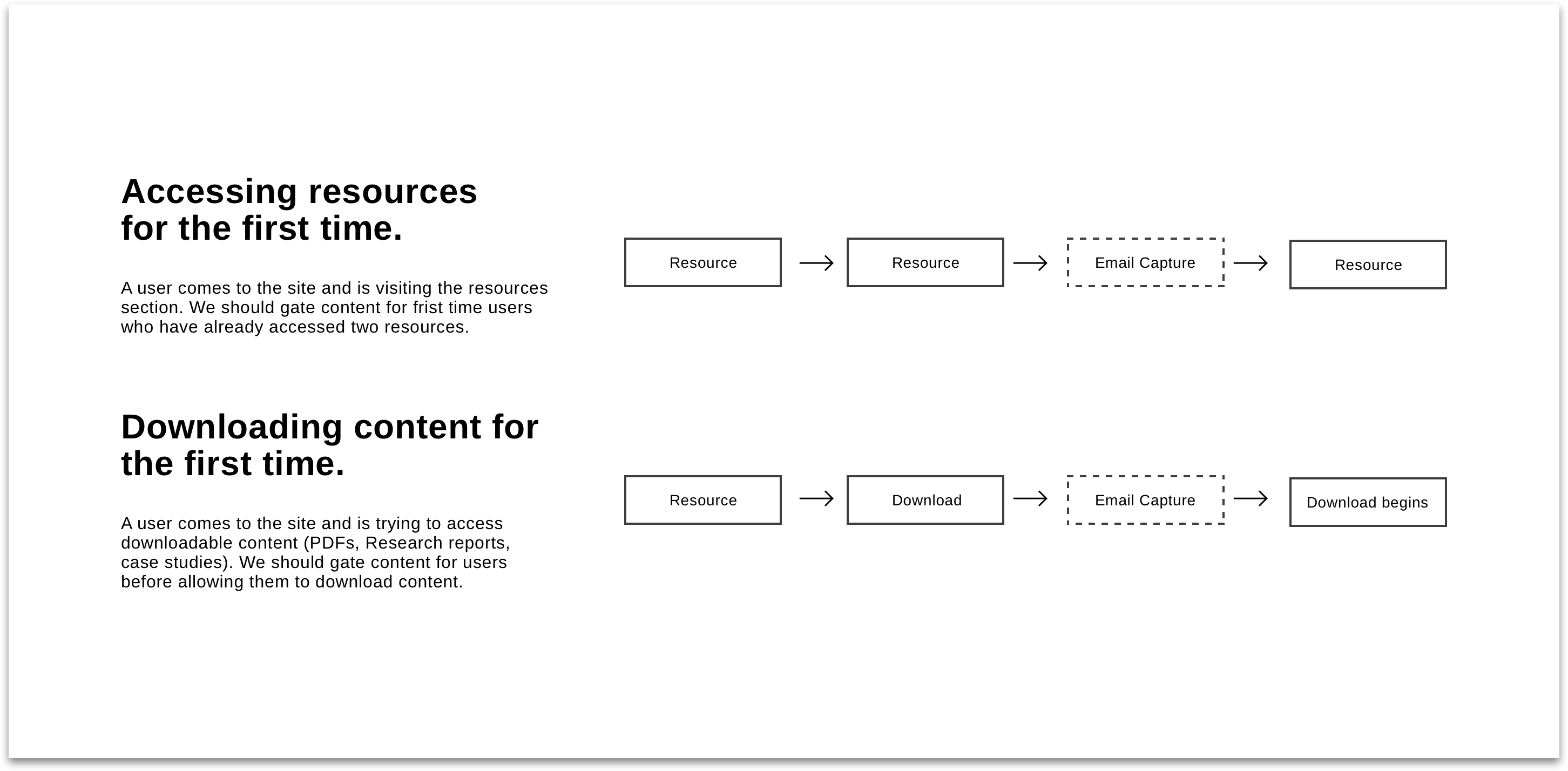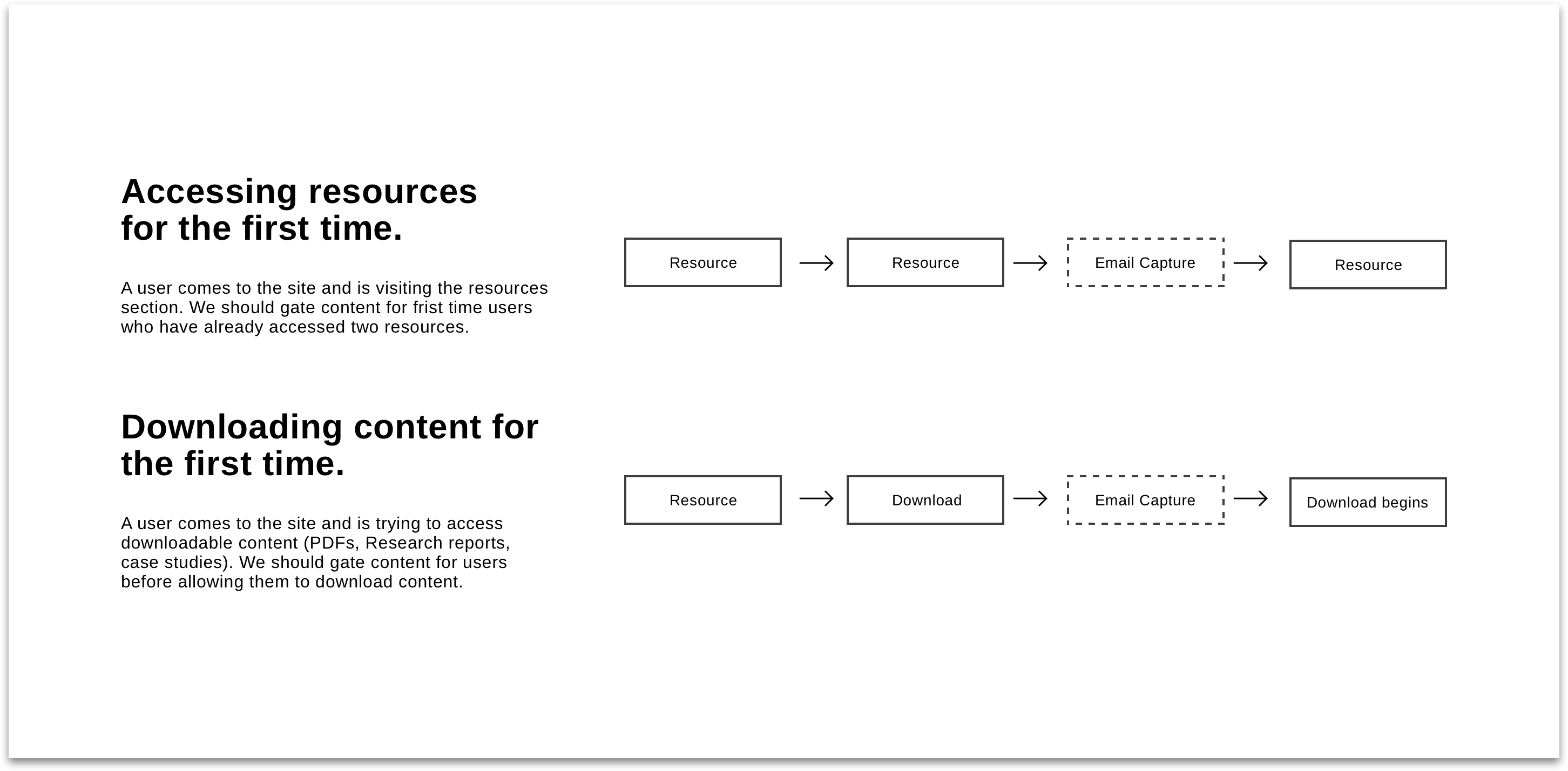 User flows for users accessing resources or downloadable content.
Navigating to Resources
Another website goal was incorporating a way to allow users to easily find events, case studies, reports, and articles and then find additional, relevant resources. One of the first areas of implementation was through the navigation of the resource pages. I chose to implement a more traditional filtering system where users can select the type of resources that they're looking for by checking filters. As the user selects filters, the results on the right begin to update to show relevant resources.
Once the user navigates into an individual resource, I created a module that allows users to navigate to related resources in a way that was organized, showed the breadth of the organization, and gave BE-Ex the opportunity to either automate using the tagging structure or assign specific content. This module was also used throughout the site for the same purpose.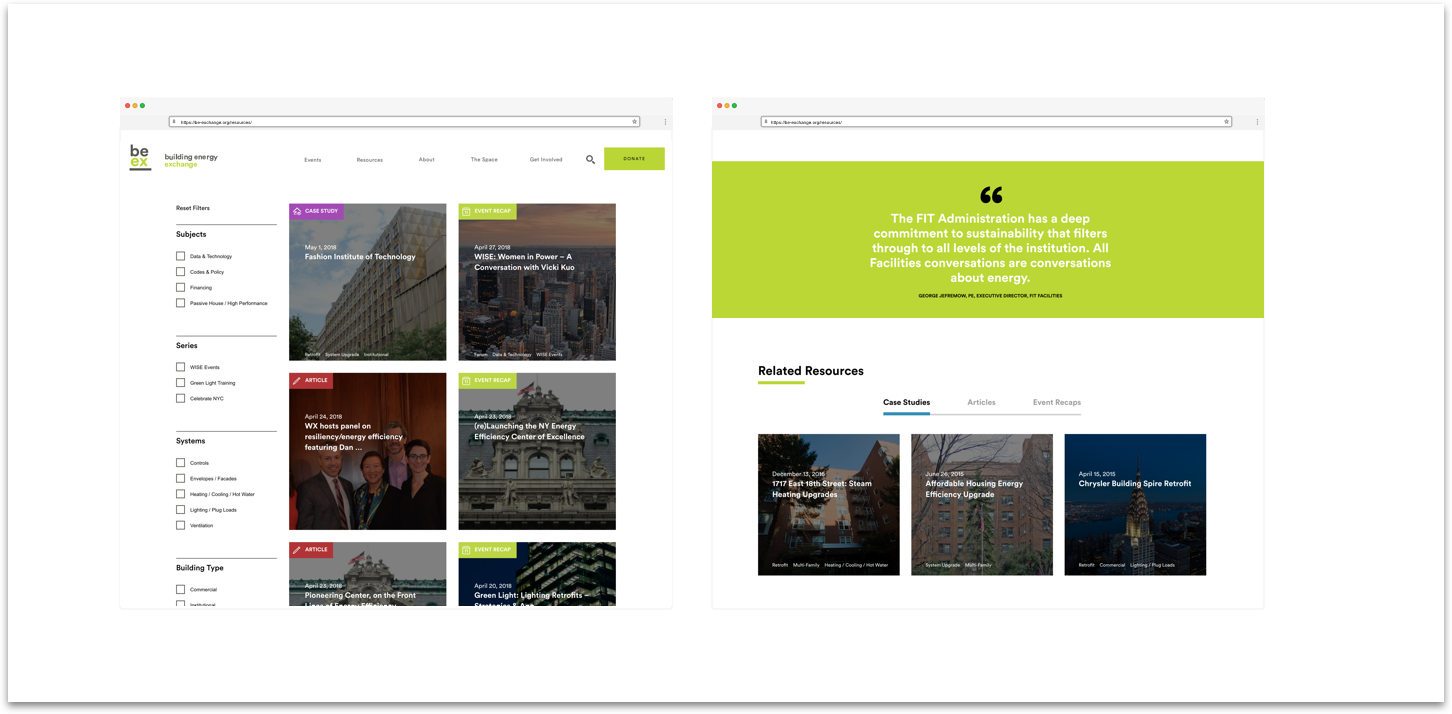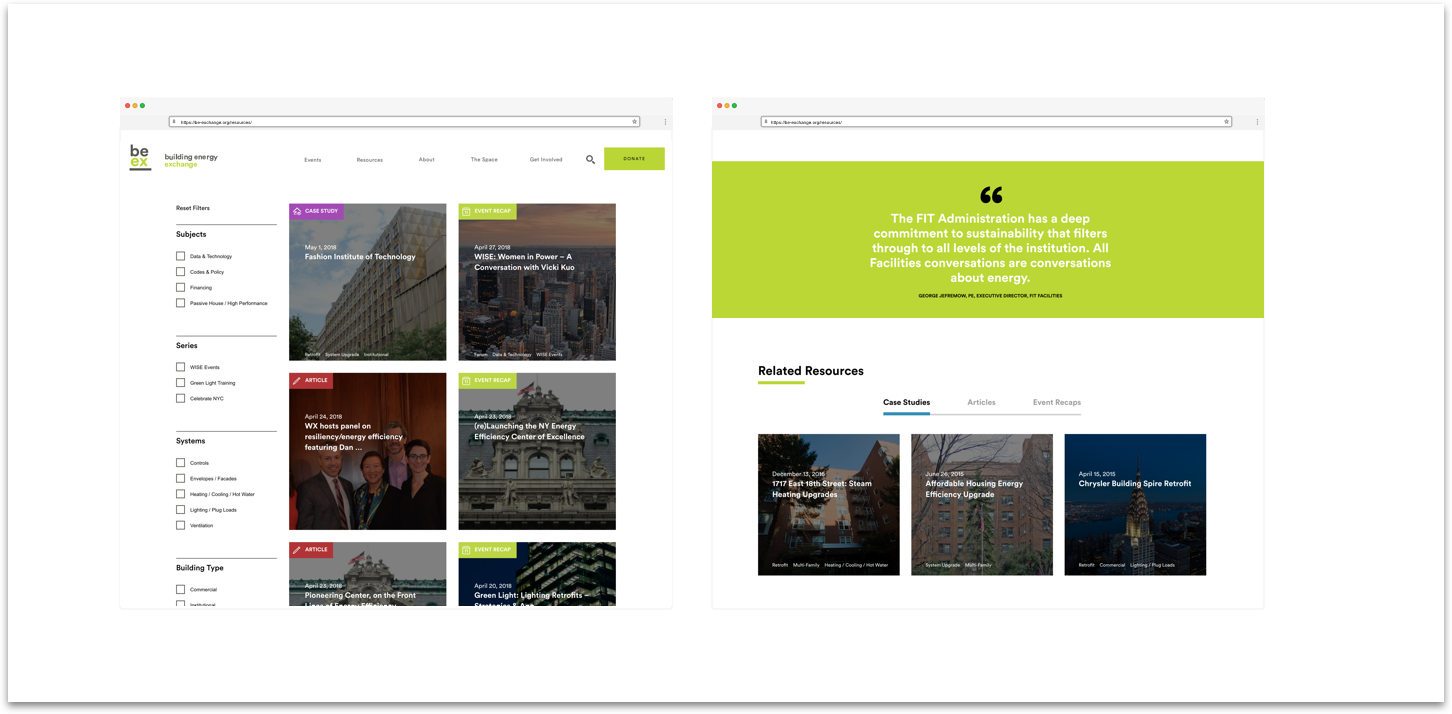 The screen on the left shows where the user can filter and find articles, PDFs, etc. The screen on the right shows how the user can navigate to similar content from an indidvidal resource.